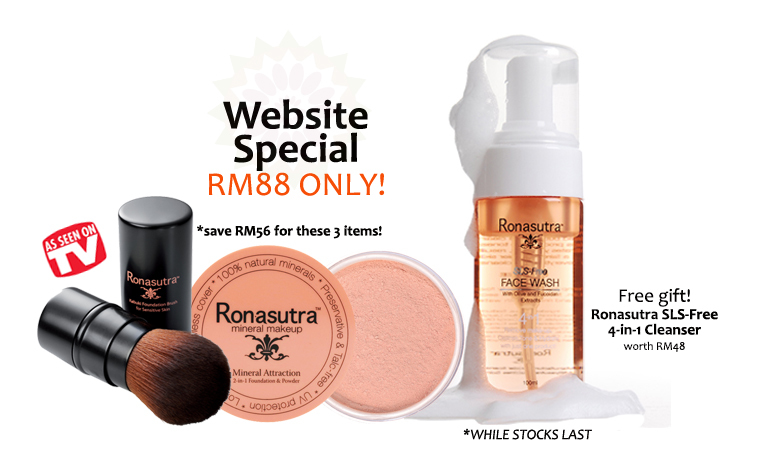 Website Special Promo 2017
Items in this promo:
* Ronasutra 2-in-1 Mineral Foundation & Powder (1 unit)
Beautifully covers blemishes and skin imperfections without clogging up pores. It beautifies, protects and treats skin with its therapeutic mineral content. Made of 100% minerals, free from talc, fragrance, parabens, oils and other chemicals. Use it on its own or as a setting powder. SPF35.
* Ronasutra Kabuki Brush (1 unit)
This award-winning retractable kabuki brush is a convenient way to apply Ronasutra Mineral Powders. Suitable for sensitive skin, its high-quality nylon hair glides smoothly over your skin without irritating or aggravation existing skin conditions such as acne. Easily blends your makeup and feels luxurious on your skin! *Free from animal hair.
* Ronasutra 4-in-1 Face Wash (1 unit)
Cleanse away makeup, dirt, oil and dull skin cells with this unique 4-in-1 cleanser.This SLS-free formula is gentle yet effective on even the most sensitive skin.Non-drying yet leaves skin feeling clean and hydrated.
4 functions:
- Cleanse
- Remove makeup- Tone
- Hydrate
Contains olive oil, yogurt extract and Fucoidan extract to encourage brightening and skin repair.
PAY ONLY RM88 FOR THESE 3 ITEMS. SAVE RM56!
Terms & Conditions:
- You may choose which shade you would like for the foundation powder from the dropdown menu.
- This is promotion runs while stocks last.
---